MyStemKits Robo E3 (x2) Classroom Curriculum Bundle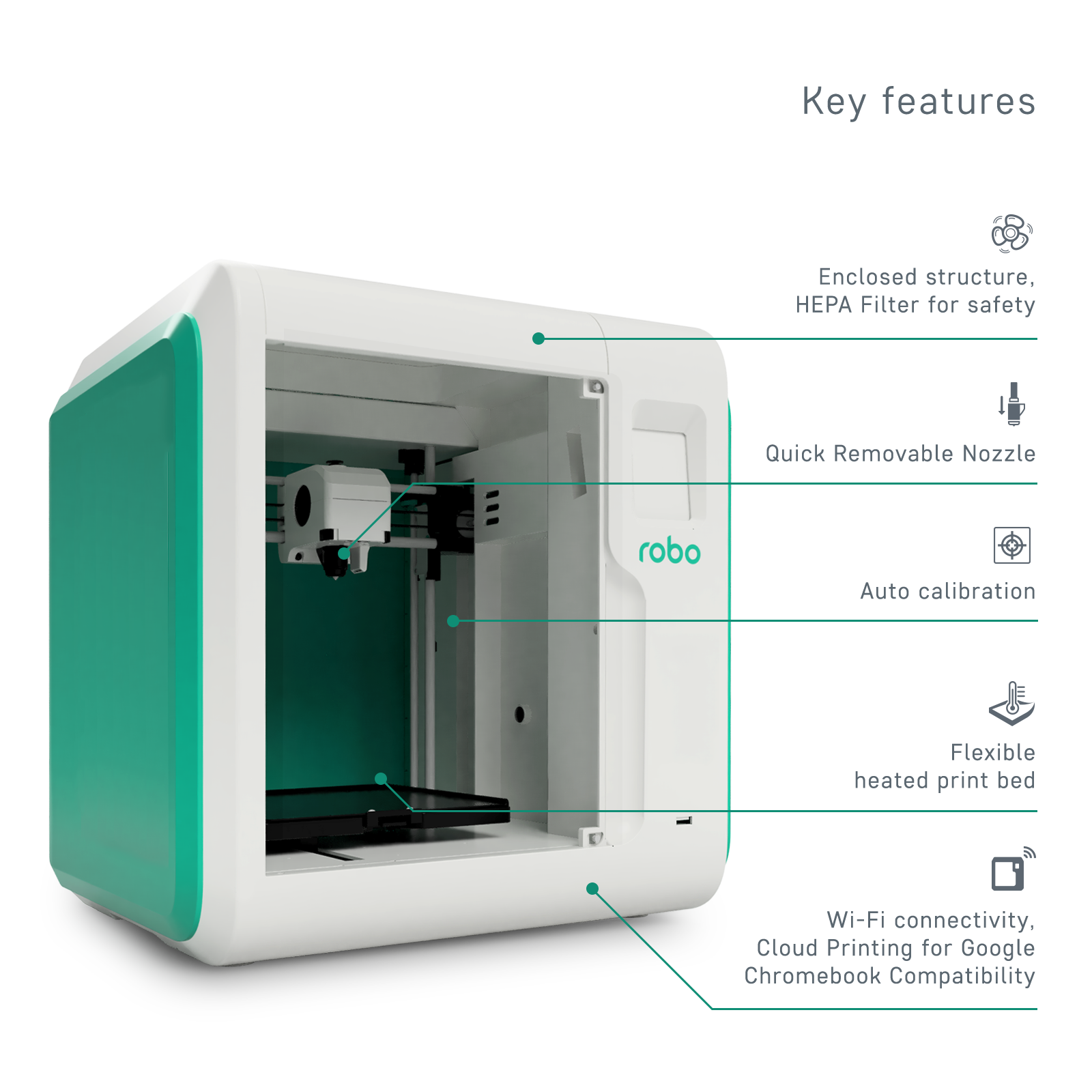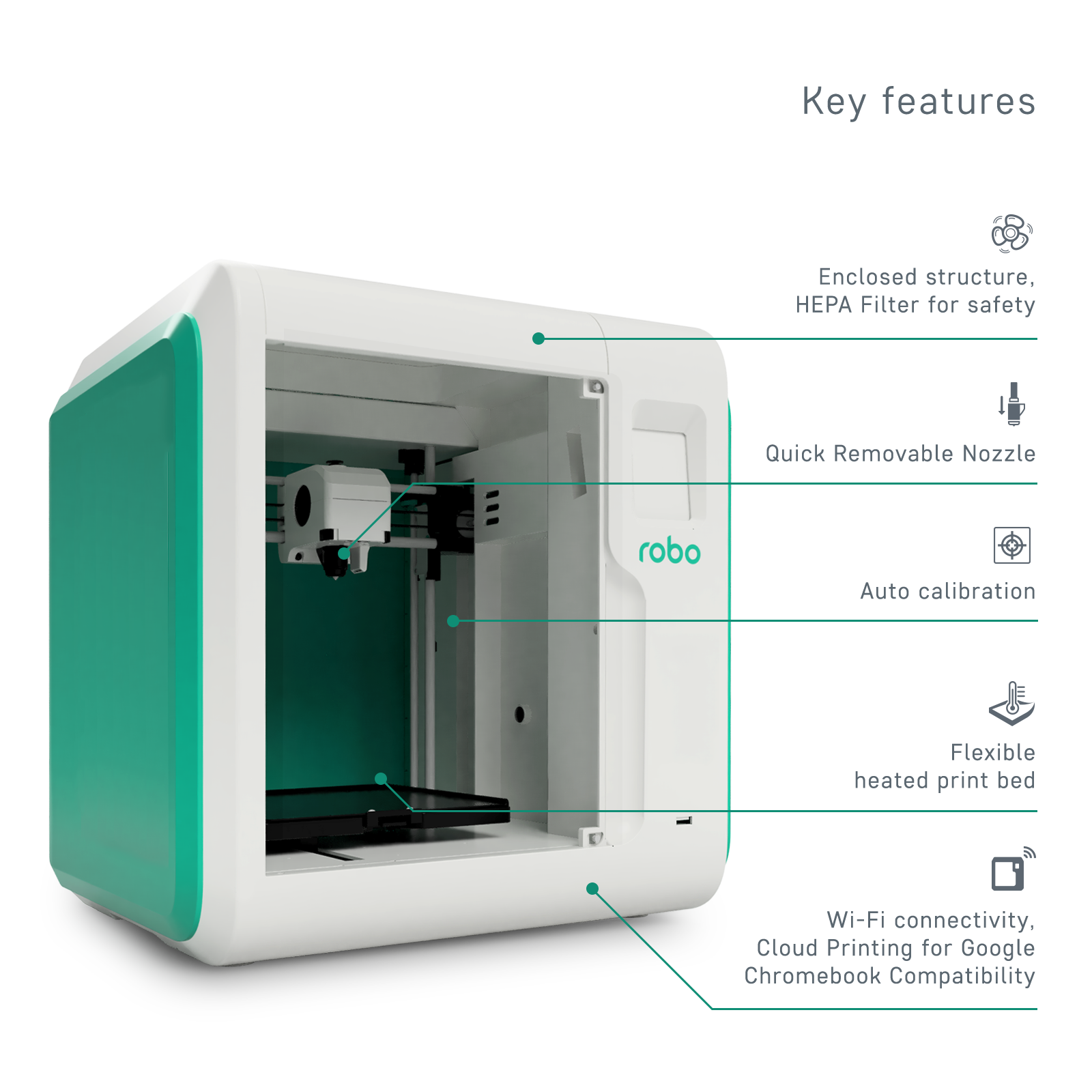 MyStemKits Robo E3 (x2) Classroom Curriculum Bundle
With Free Shipping!
Includes 4 FREE Spools of our Premium 3D Filaments!
Free spools include 3D Printlife's Pro PLA, PLAyPHAb High Strength PLA/PHA, Enviro Eco-Friendly ABS, and BioPETG Eco-Friendly PETG, all made here in the USA at our medical grade extrusion facility.

MyStemKits Robo E3 (x2) Classroom Curriculum Bundle. (1 Teacher License, Unlimited kit Printing, Recommended up to 50 Students)
(2) Robo E3 Smart 3D Printers with Wi-Fi

1 year of the MyStemKits School Plan (1 teacher license, unlimited kit printing, recommended up to 50 students)

2 10 packs of 500g filament – 20 total – 4 white, 4 black, 4 blue, 4 red, 4 green

2 hours of online training

Extended 24 month warranty

Spare Parts Pack- Includes 1 nozzle, bed sheets, and platform

Filament run-out detection automatically pauses your 3D print and notifies you when you've run out of filament.

6" x 6" x6" build volume, quick removable nozzle

LCD Touch Screen with Wi-Fi connectivity

Built in personal hot spot.

Store up to 1,000 models on each printer.
The MyStemKits Robo E3 Curriculum Bundle includes everything you need to incorporate 3D printing into your classroom – With lesson plans fit for K-12 STEM education that align to NGSS and Common Core standards incorporated with use of powerful 3D technology, students are becoming better prepared for future jobs through problem solving techniques and increased engagement.
Compatible with over 75 3D Printers, this one-year, single-user, UNLIMITED plan is perfect for delivering STEM education in an interactive and engaging manner, using 3D printing to create manipulatives for over 180 hands-on projects for K-12 students.
Over 240+ lesson plans and kits that stream directly to your 3D printer – no design skills or downloading required.

Kits include videos, teacher guides, student worksheets/assessments, and standards alignment (NGSS/Common Core)- turn-key curriculum and educational models.

Perfect for an educator in a classroom who needs classroom manipulatives and standards-driven lessons for their K-12 classroom.

This one-year, single-user, Classroom Plan is great for STEM learning with effective, interactive activities for 25 K-12 students.

Unlimited printing - One admin account - One full year

Up to 25 students
The MyStemKits library has over 150 Science, Technology, Engineering and Math (STEM) kits with model assembly guides. The kits are ready-to-stream to most 3D printers (supported printer link below). No design or modeling experience is necessary. Many kits have accompanying lessons designed in partnership with the Florida Center for Research in STEM based out of Florida State University. The curriculum team consists of teachers and content experts who design, develop, and test each lesson, aligning them with K-12 NGSS, Common Core and a select, but growing, group of state standards. Kits are grouped by grade level and subject, with some of the most popular kits being the DNA kit, Hominid Skull kit, Brain kit, Catapult kit and Wind Farm kit. Upon purchase, you will receive access credentials to the portal. There you can browse available kits by either subject or grade and pick the kits that you want to print and build. We don't decide what kits to download – you decide which kit, and how many you will print. From the portal, the MyStemKits Printer Management Platform makes your experience intuitive and easy. The platform is mobile ready, and allows you to control multiple 3D printers from a single dashboard. Prints are pre-configured with print-specific attributes.
The Robo E3 new generation smart 3D printer with Wi-Fi is built for classrooms by providing safe, smart and easy-to-use features — equipped with a fully enclosed structure and HEPA filter for safety, a 5.9 x 5.9 x 5.9 inch print space, a quick removable nozzle, heated print bed, and much more! The Robo E3 also comes complete with a MyStemKits Starter Plan allowing you to 3D print up to 20 K-12 STEM lessons. When you want to make it real - make it Robo.
Flexible connectivity

Connect Robo E3 to your Wi-Fi, USB, or Ethernet. If no internet connection is available, connect using Robo E3's personal hotspot.

Auto Calibration

Spend more time making without having to manually adjust the print bed — plus, it's removable.

Removable nozzle

Easily swap nozzles through the simple buckle design. No need to use tools to disassemble the entire extruder during maintenance.

HEPA filter

Enclosed printer includes HEPA filter to ensure particles do not escape outside the printer, making it safer for classrooms.

Heated print bed

Improves the quality of each print, prevents warping, and allows you to print in many different materials.

Prints most materials

Open source filament system allows you to print with different types of materials giving you the ability to do more.
Prints 20+ Material Types
With Robo E3, the heated print bed and open source filament system allows you to print in over 30 different types of materials.

Here are some of the materials that you can print in:
PLA, ABS, Aromatic PLA, Glow in the Dark PLA, Wood PLA,PET-G Flexible TPE, Flexible TPU,Thermo Temp Color Changing PLA, Bronze-filled PLA,Copper-Filled PLA, Brass-Filled PLA, Glass Filled PLA,Stainless-Steel Filled PLA, Iron-Filled PLA,Carbon Fiber PLA, Carbon Fiber Nylon, Conductive PLA,Magnetic Iron, PVA & more.
Tech Specs
Print size

~5.9 x 5.9 x 5.9 inch

150 x 150 x 150 mm

Layer resolution

100-400 microns

Size

15.28 x 13.39 x 15.94 inch

388 x 340 x 405 mm

Print technology

Fused filament fabrication

Packaging size

18.9 x 16.54 x 20.08 inch

480 x 420 x 510 mm

Print speed

Up to 100 mm3/s

Weight

19.84 lbs

9 kg

Print head

Quick change nozzle

Print bed temperature

Up to 100°C (212°F)

Print head temperature

Up to 250°C (500°F)

Nozzle diameter

0.4 mm nozzle

File transfer

USB, Wi-Fi, Ethernet,

Cloud printing

Software

Robo print or Cura

free preparation software

Supported OS

Windows, macOS,

Linux, Vista
Resources
Robo Cloud
Cloud manage and cloud print to your Robo E3. Robo cloud allows you to add multiple 3D printers, modify print settings, queue up multiple prints, as well as view your entire print history. It's clean, simple, and fun.
RoboPrint
Easy-to-use desktop 3D printing software so you can prepare, manage, and change your print settings.
Supported OS
Apple iOS and MacOS, Windows, Linux
File Transfer
Standalone 3D printing from USB stick, Wi-Fi printing from app.
Operating Ambient Temp
59-90oF
Non-Operating Temp
32-90oF
What's Included
Robo E3 Printer

Spool of Filament

Spare Parts Pack

Quick Start Guide

Tool Kit

2 Hours of Online Training

MyStemKits Starter Plan (Print Up to 20 Kits)