LulzBot Taz Workhorse Edition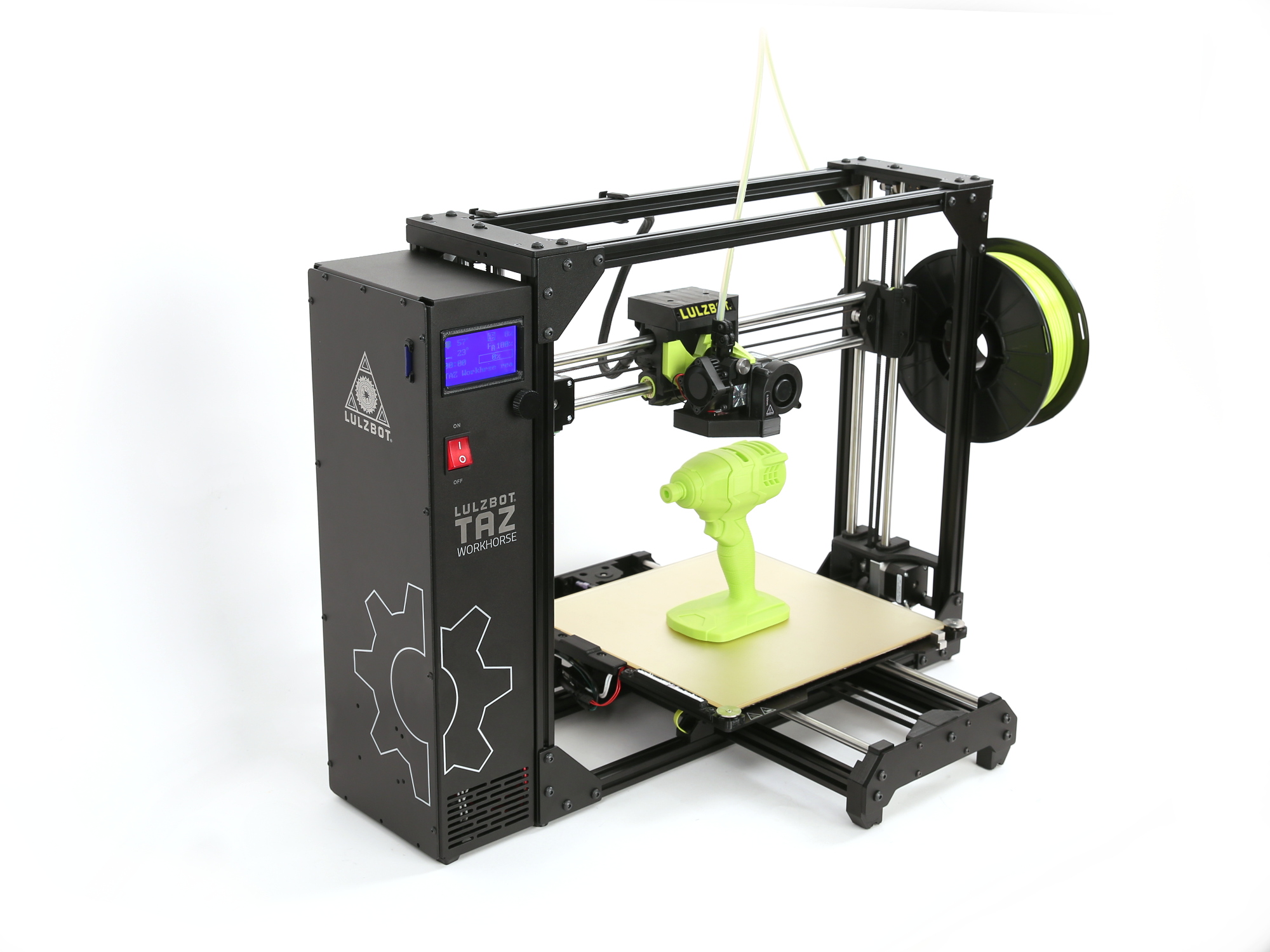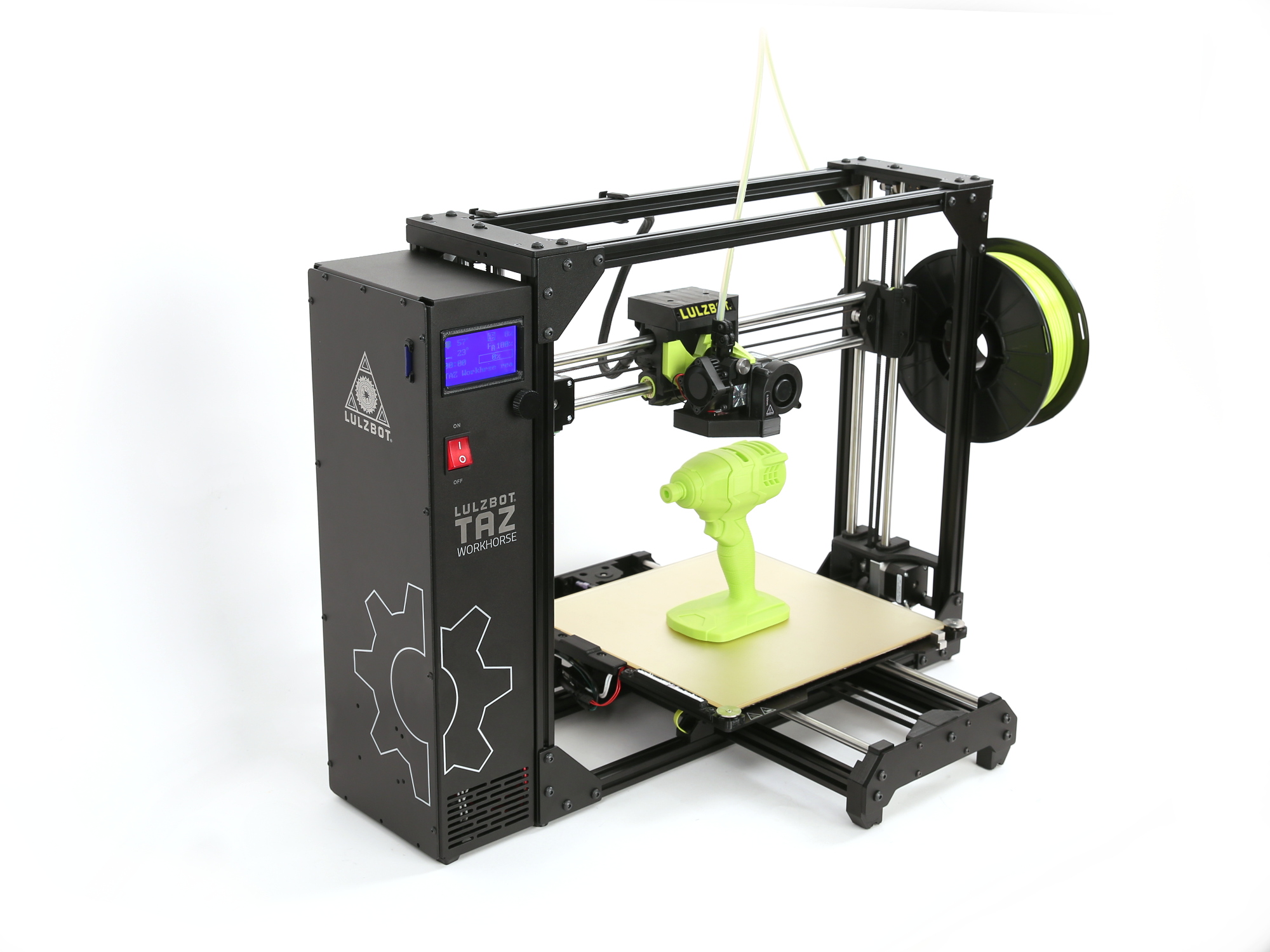 LulzBot Taz Workhorse Edition
With Free Shipping!
Includes 4 FREE Spools of our Premium 3D Filaments!
Free spools include 3D Printlife's Pro PLA, PLAyPHAb High Strength PLA/PHA, Enviro Eco-Friendly ABS, and BioPETG Eco-Friendly PETG, all made here in the USA at our medical grade extrusion facility.
The LulzBot TAZ Workhorse Edition is the industry's most reliable and easiest-to-use desktop 3D printer. The next generation of the award-winning LulzBot TAZ line includes a strengthened design, improved motion system, premium hot end, and new automatic calibration features.
14% larger build volume.

Supports 10+ materials.

Strengthened design.

Improved print quality and printed part accuracy.
Key Technical Specifications
Tool Head: HS Tool Head | Hardened Steel | 0.5 mm

Layer Resolution: 0.05 mm - 0.4 mm (0.002 in - 0.02 in)

Max Hot End Temperature: 290°C

Print Surface: Modular Borosilicate Glass/PEI

Max Print Surface Temperature: 120°C

Leveling: Automatic Z-Axis Compensation

Calibration: Automatic X/Y/Z Offset Calibration

Certifications: UL (Pending), FCC, CE, WEEE, OSHWA
Print Volume Dimensions
280 mm x 280 mm x 285 mm
(11.02" x 11.02" x 11.22")
Print Volume
22,344 cm³ (1,362.56 in³)
Premium Hot End
A lightweight tool head design, hardened steel E3D Titan Aero hot end, and 360° part cooling delivers precise, flawless-looking prints.
Belt-Driven Z-Axis
A belt-driven Z-axis, technology exclusively found on LulzBot 3D Printers, eliminates "Z wobble" print artifacts often caused by threaded rods, while simultaneously speeding up cycle times.
Hardened-Steel Components
From high-heat and high-strength composites to flexible materials down to 85 Shore A hardness, the TAZ Workhorse can handle it all, straight out of the box.
More Accurate Prints
A concept used in professional-grade CNC's, the LulzBot TAZ Workhorse uses an innovative calibration cube to measure and compensate for X/Y/Z backlash, increasing printed part precision.
Modular Bed
The Modular Print Bed System heats up quickly and features a reversible glass/PEI print surface, expanding versatility and simplifying maintenance.
Ready-To-Print Material Profiles
Tweak designs, not material profiles. Our dedicated in-house technicians spend hundreds of hours verifying material quality and perfectly crafting ready-to-print profiles. All that's left for you to do is click print.
Z-Axis Leveling
Enjoy automated z-axis leveling with dual z-axis limit switches and LulzBot's innovative belt driven z-axis.
Auto Leveling & Cleaning
Spend more time innovating, no leveling or tweaking required. An automated cleaning and leveling systems enables a hands-off printing experience.
Full Spec Sheets and Other Resources