da Vinci Super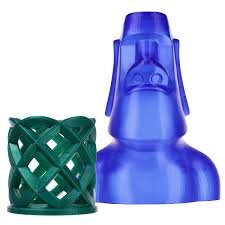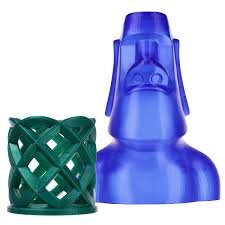 da Vinci Super
With Free Shipping!
Includes 4 FREE Spools of our Premium 3D Filaments!
Free spools include 3D Printlife's Pro PLA, PLAyPHAb High Strength PLA/PHA, Enviro Eco-Friendly ABS, and BioPETG Eco-Friendly PETG, all made here in the USA at our medical grade extrusion facility.
Bigger is Better
Print big. The da Vinci Super is a large-format 3D printer that supports 3rd-party filaments, specially engineered for use in the office or workshop.
Big Volume - Any Filament
The da Vinci Super is our biggest printer yet. Print large volume with 3rd party filament, and use our slicing software, XYZware Pro to ensure you get great quality prints every time.
Upgraded Hardware for Better Functionality
Upgraded with automatic platform calibration, heat-resistant glass printing platform, intelligent quick-release nozzle and intuitive interface, the da Vinci Super lets you print large objects without sacrificing quality or user experience.
New School Material Selection
With an extruder nozzle that can print up to 260℃, and a heated print bed that can reach 100℃, print from a wide range of new generation 3rd party materials such as Carbon Fiber, Nylon, TPE and HIPS, or stay traditional and print with time-tested ABS, PLA and PETG.
Failed Print Job Recovery
In case the power goes off unexpectedly during your print, the da Vinci Super saves your last print layer so you can start it easily when the power is restored. No more wasting a print that is already 20 hours through. This same technology also lets you pause the print and change filament colors. Once your new filament is loaded, simply press "resume" to continue printing.
Customizable Functionality
3D printing is all about customization so here at XYZprinting we've taken that ethos into our design thinking. The da Vinci Super lets you choose between a rear filament loading module or a front loading module, letting you print both flexible and stiff materials. Additionally you can also swap the printhead for a laser engraver module and engrave your design on Paper, Cardboard, Leather, Wood or Plastic.
NFC Chip for Optimized Material Profiles
Our 2nd generation chip that's attached to the filament spool ring, which transfers data regarding the material, to the 3D printer. This automatically sets up the optimized profile of your material and lets you know how much filament is left.
Open Filament System for Limitless Possibilities
Your 3D printer's open filament system lets you print with 3rd party materials. You also get to choose from XYZprinting's full range of 3D printing filaments, regardless of their chip type — simply use the filament without its chip and select the 'default' profile for your material on XYZprint.
Large Print Volume
With a 11.8 inches cubed printing volume and upgraded hardware, anyone can print out large, reliable and high-performance models. With multiple filament compatibility, the application can be used from engineering to small business.
Supports 3rd Party Filament & G-code
With adjustable temperature settings, front and rear feeding module and heated aluminum print bed, the da Vinci Super can print with any 3rd party 1.75mm filament, which includes PLA / ABS / Tough PLA / PETG / TPE / Nylon / Antibacterial PLA/ HIPS / Wood / Metallic*/ Carbon*.*With upgrade to Hardened Steel Nozzle.
Easily adjust print settings to match your material using our XYZprint, also supporting G-code from other slicing software (Cura and Slic3r).
Ready to Print
The resolution of the da Vinci Super is 20 microns to 400 microns. Playing around with the multiple settings of the software; you can control the temperature, speed, support, and even retractions, to ensure your prints come out perfectly every time. The suggested Max print speed is 180 mm/sec.
Auto Calibration
With Hands-Free, auto-calibration system, the motor will move itself for you to make sure the distance between the extruder and the print bed is perfect. To ensure accurate prints, all you need to worry about is the 3D model file itself.
The da Vinci Super allows anyone to wirelessly send 3D files from their computers to their 3D printer, from anywhere in their local area network. No lines, no cable management, no worries.
Upgradable Laser Engraving
(Optional) With an output power of 350 mW±10%, you can engrave your own creative design on various materials such as paper, cardboard, leather, wood, and plastic.
Specifications
Printing Properties

Print Technology

FFF(Fused Filament Fabrication)

Max. Build Area (WxDxH)

11.81" x 11.81" x 11.81" (300 x 300 x 300 mm)

Layer Resolution

20 - 400 microns

XY Positioning Precision

X/Y 12.5 micron

Z Positioning Precision

Z : 0.0004 mm

Printing Software

XYZmaker Suite

Supported File Formats

.stl , XYZ Format (.3w), G-code, .3mf , .obj, .igs, .stp, .3cp

3D Builder Support

YES

Max. Moving Speed

Max. 180 mm/s

Material

Material Compatibility

PLA / Antibacterial PLA / ABS / Tough PLA / PETG / TPE / Nylon / Wood / HIPS / *Premium Metallic PLA / *XYZ Carbon Fiber (*Optional Extruder)

Support 3rd Party Material

YES

Filament Diameter

1.75 mm

Extruder (Standard)

Nozzle Diameter

0.4 mm

Number of Nozzles

1

Nozzle Temperature

Max. 260 °C / 500 °F

Print Bed

Print Bed

Non-removable Glass

Print Bed Temperature

40 ~ 100 °C / 104 ~ 212 °F

Calibration

AUTO

Laser Engraver Module (Optional)

Engraving Area

28.5 cm x 28.5 cm

Laser Wavelength

406 nm + 8 nm/-6 nm InGaN

Output Power

300 mW ± 10%

Laser Engraving Software

XYZengraver

Supported Image Formats

.jpg / .png / .gif /.bmp

Hardware

Filament Feeding System

YES

Stepper Motors

1.8° HB Stepper Motors

User Interface

5" Touch Panel LCD

Language

Multilingual

Connectivity

USB 2.0 Cable, Wi-Fi 802.11 b/g/n, USB Flash Drive

System Requirements

Operating Systems

Windows 7 / 8 / 8.1 / 10 (64 bits)
macOS 10.12 / 10.13 / 10.14

Operating Systems on Mobile Devices

Android 5.0 and above
iOS 9 and above (iPad Only)

Minimum Hardware Requirements

For PC: CPU 4th Generation Intel® Core™ i5 Processor or more / RAM: 8GB/ Hard disk space: 20GB or more
For MAC: RAM: 8GB / Hard disk space: 20GB or more

Operating Requirements

Power Requirements

100V ~ 240V 450W

Operating Temperature

15 ~ 32 °C / 59 ~ 89.6 °F

Operation Humidity

30 ~ 60 % RH (no condensation)

Storage Temperature-Filament

10 ~ 40 °C / 50 ~ 104 °F

Size & Weight

Product Dimensions (WxDxH)

23.78" x 23.82" x 28.86" (604 x 605 x 733 mm)

Product Weight

35.5 kg (78.26 lbs)

Packed Dimensions (WxDxH)

27.95" x 27.56" x 35.67" (710 x 700 x 906 mm)

Packed Weight

48 kg (105.82 lbs)