Pure PLA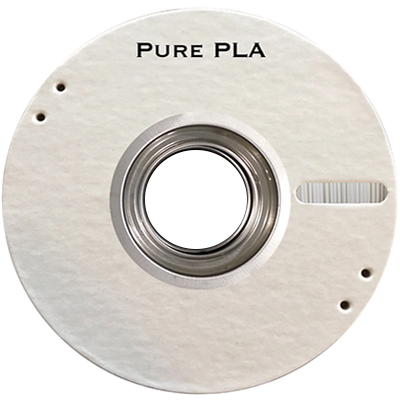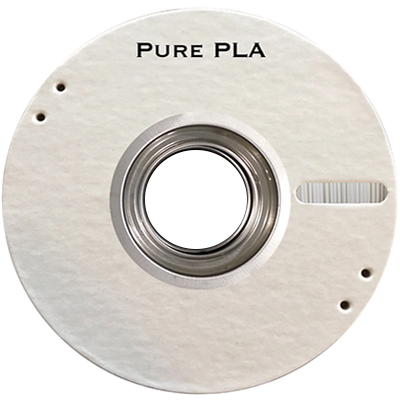 Pure PLA
3D Printlife's Pure PLA is a premium quality 3D Printing filament.
There is no special formula or secret ingredient, just 100% virgin resins and precision manufacturing at our medical grade extrusion facility. Special care has been taken to ensure that the packaging is also as eco-friendly as possible.
Pure PLA meets ASTM D6400 standards for biodegradability and maintains a dimensional accuracy better than +/- 0.03mm.
The Pure PLA spool has 750 grams of filament wound onto a heavy recycled cardboard spool that is biodegradable, and bound with a recyclable tin end cap. The Pure PLA spool was designed for universal fit with most 3d printers in use worldwide. The spool includes both a cut-out for viewing filament and dual puncture slots to secure filament when not in use. The flange can even rotate to in either direction to aid in securing the filament wherever it has been cut.
Consumers can be confident that 3D Printlife's Pure PLA spool will be compatible with their printer. Print temp 190℃ - 225℃.
In addition, a portion of the proceeds from every spool of Pure PLA will be donated to plant a tree. One spool equals one tree, rejuvenating iconic forests in key locations throughout the United States.
Pure PLA is made in the USA with the highest quality materials and extrusion processes available. Every inch of Pure PLA is measured to ensure that it is within the strictest standards for quality, diameter, and ovality.
3D Printlife uses high quality 100% virgin resins and colorants in filament manufacturing. Each spool of Pure PLA is carefully wound to exacting standards to minimizing crossovers and loopbacks that can lead to snags and snaps.
Premium Quality PLA Filament
Dimensional Accuracy < +/- 0.03mm
Nozzle Temp 190℃ - 225℃
Every Spool Plants a Tree
100% Biodegradable
Made in the USA