FormFutura LUVOCOM 3F PEKK 50082 NT 3D Printer Filament 500g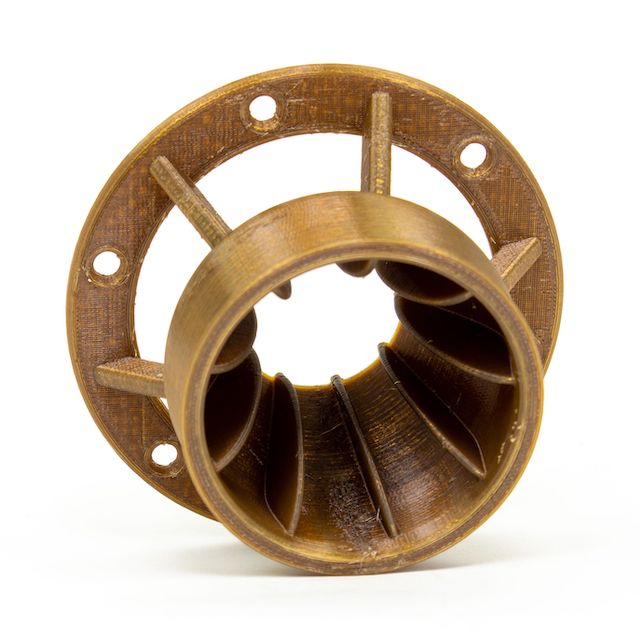 FormFutura Luvocom 3F PEKK 50082  (PolyEtherKetoneKetone) is a high-performance polymer from the PAEK (PolyArylEtherKetone) family. Luvocom 3F PEKK 50082 is a semi-crystalline PEKK filament which exhibits outstanding mechaniccal properties combined with excellent thermal-, wear-, and chemical resistance. Parts that are 3D printed with Luvocom 3F PEKK 50082 filament are suitable for use in applications that will be exposed to short term service temperatures of up to 300°C and continious service temperatures up to 255°C.
FormFutura Luvocom 3F PEKK 50082 filament can be processed at lower 3D printing temperatures than PEEK-based 3D printer filaments and yet it provides approximately a 15°C higher glass transition temperature (Tg). This makes Luvocom 3F PEKK 50082 filament a very versatile high performance 3D printing polymer that is capable to 3D print parts that can replace metal and composite parts used in various industries. This PEKK filament unlocks industrial 3D printing applications in various industries, such as aerospace, medical, oil & gas, energy, marine, and automotive. Luvocom 3F PEKK 50082 filament allows one to 3D print parts with excellent layer bonding resulting in an usnurpassed dimensional accuracy and z-strength for PEKK 3D printed parts.
Key features
Lehvoss Luvocom 3F PEKK 50082 NT inside

Suitable for applications with a continuous service temperature of 255°C

Short term service temperature of 300°C (during lifetime max. 200h)


Very limited to no warping

Unique tribological properties

Excellent mechanical properties

Flame resistance properties according to UL 94 V-0

Exceptional chemical resistance properties
Applications
Dynamically-stressed parts

Highly chemically-resistant parts

Wear resistant parts

Aerospace applications

Automotive
FormFutura is one of the leading suppliers of additive manufacturing materials in the world. Founded in The Netherlands, in 2012, they quickly grew into an unmistakable brand with resellers and customers across Europe. FormFutura has made a pro-active effort to promote sustainable packaging in the 3D Printing industry, from environmentally friendly recycled products to supporting green initiatives. Compatible with your 3D Printer or 3D Pen, 3D Printlife stocks both 1.75mm & 2.85mm diameters in popular 3D filaments like ApolloX ASA, Centaur PP (Polypropylene), TitanX ABS, Galaxy PLA, Silk Gloss PLA, and HDglass PETG, to engineering materials like PEEK, Carbon Fiber PEEK, PEKK, PEI Ultem, and PPSU. Use your 3D Scanner or your imagination to create your 3D printed parts. For beginners, experts, educators, hobbyists, home, or industry 4.0. Compatible with FDM 3D Printers such as Dremel, Raise3D, Flashforge, Creality, XYZPrinting, QIDI, Syndaver, Robo3D, Prusa, Snapmaker, Monoprice, Lulzbot, MakerBot, and Ultimaker.
More Information

| | |
| --- | --- |
| Title | FormFutura LUVOCOM 3F PEKK 50082 NT 3D Printer Filament 500g |
| Manufacturer | FormFutura |
| Base Material | PEKK |
| Difficulty | Advanced |
| Nozzle Temperature | 320°C - 360°C |
| Heated Bed Required? | Yes |
| Print Bed Temperature | ≥120ºC |
| Bed Adhesion | EasyFix Nr. VII |
| Enclosure Required? | 90°C heated chamber |
| Nozzle Size | ≥ 0.4mm |
| Fan Speed | 0 - 25% |
| Spool Weight | 500G |
| Drying | +4 hours at max.110°C |
| Minimum Nozzle Temp | 320°C |
| Dimensional Accuracy | < +/- 0.05mm |
| Settings Note: | The settings above are meant as a guide to find your optimal print settings. They should work well for most printers, but every printer is different. Please feel free to experiment outside these ranges if you think it is suitable for your printer. |
| | |